B2B Telesales Training at Morton Kyle covers all the great content you'd expect…
But this is not your run of the mill telesales training. I have a different view of cold calling, cold lead generation, sales and telesales.
My believe is that the cold calling and telesales industry is exciting, amazing and rewarding.
I started out in telesales many years ago and I still do cold calls today, for myself, my business and my client's businesses too.
Not only is being able to sell, influence, persuade, communicate clearly engage, build value, build rapport, get creative, build confidence, increase thinking power highly rated and valuable skills in a telesales and cold calling environment…
All these elements that make for brilliant and rewarding life skills.
Telesales, selling, cold calling are all jobs that lead to one thing when you do them right!
Freedom!
……of choice
…….of opportunity
But you've got to get to grips with the basics.
Learn the trade. You must hone your skills constantly, learn from the best and develop your own style….(if you want to check out some of the best sales books I know – check out this – The Top 15 Sales Books Every cold Caller Should Read
Exciting Times for High Performing Sales People
In an AI world where you can generate most anything at the click of a button….we are still some way away from having the same capability to automate the thinking, breathing feeling, human experience of one life and blood person speaking with another life and blood person.
That will not be easy to replicate for complex events like selling.
A few years ago – websites got rid of sales people who just gave out information or who acted like an advice line
Then FAQ (frequently asked question) pages cropped up to stop prospects calling an organisations and having a conversation with a sales rep
Sometime after that, chat bots appeared, so answer questions from prospects (rather badly in many instances)
Then AI appeared to generate endless emails to end up in spam folders….
I think you can agree that a spammy email is a million miles away from replacing a high performance sales rep, cold caller or telesales pro?
So, if that describes you – then you're safe…for now.
Time to up the anti on that sales training though?
Here's 3 Things I Know About B2B Telesales and Cold Calling
The telesales conversations are nowhere near conversational enough
The expectations are sooooo high and so tunnel focused that the caller ends up missing as many as 94.2% of the opportunities that are out there…..Yes really 94.2%
Decision makers are quite happy to chat if the call firstly, doesn't sound like every other sales call s/he's ever had and secondly, the call adds value and brings insight to the interaction.
These are all easy fixes…
But I think there is something that's even more important.
It's the mindset of the telesales caller.
The way the new business development super star, the person in the sales trenches every day, how they think about the whole cold calling process and how that informs their interaction and dramatically reduces their rejection rates.
Because – after all – success breeds success in sales.
If you can dramatically reduce rejection rates you've got a fully motorised and dynamic sales team that believe they can achieve anything.
Welcome to the Morton Kyle B2B Telesales Training Course
Designed specifically for the cold callers, lead generators, appointment setters and new business developers who want to reach the top of their sales game.
Sales people committed to deliver the highest possible sales conversion rates, enjoy their job and bring valuable insights and delight to their prospects!
I've brought together every single thing I know, I've learned and I've seen work in sales teams from the last 20 years, from lots of sectors, different industries and thousands of sales teams and wrapped it all up in The Sales Improvement Workshop
Check out the link for details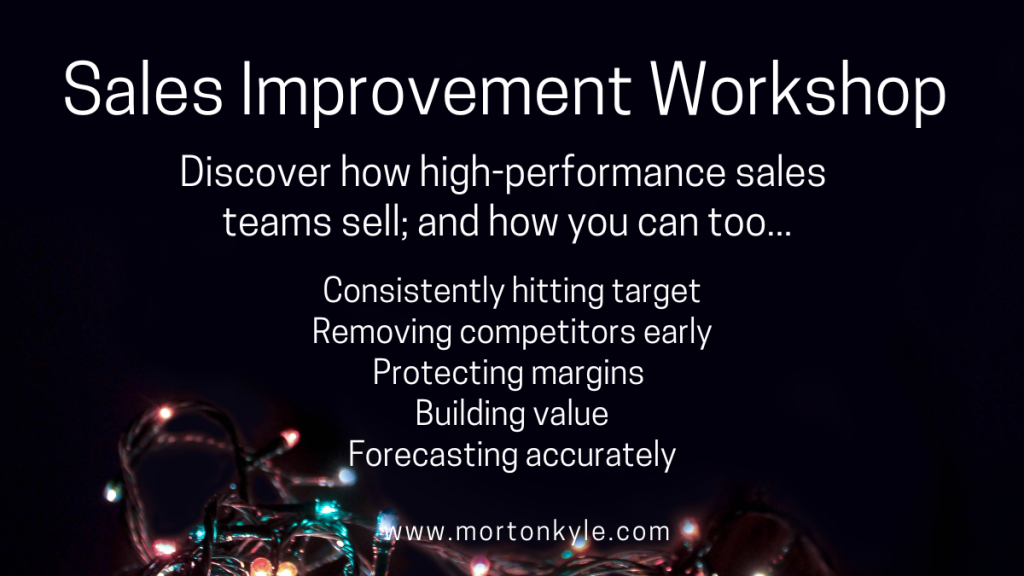 So Why Select Morton Kyle B2B Telesales Training?
I cover all the aspects of cold calling and B2B Telesales Training you'd expect from the basic core principles of good selling to the modern sales methods that today's buyers respond to.
I also include how make EVERY single cold call and new business outreach matter.
That's why my course covers how to SELL MORE,..
PLUS pick up 17 additional little gifts to help every sales person progress in the sales world….
Book a meeting from a cold call
Arrange a demo
Gain a referral
Build industry insight for the buyer and gain industry insight from the buyer
Explore opportunities to start to build the relationship – speaking invitations, informal networking, corporate entertaining
Gather information on the competitors, the industry, the sector, the prospect's industry, sector and competitors
Fully profile a qualified lead
Explore any mutual connections and networks
Assess the potential for a commercial partnership
Promote the idea of partnerships other than just supplier/buyer relationships
Leave the prospect as a positive advocate of your business
Discover how to get on the preferred supplier list
Find out the timing for any realistic and valuable RFI (request for information) opportunities
Build a valuable connection where the door is always open
Start a relationship
Build an organisational family tree of prospects, referrers, influences, cheque book holders and any other stakeholders
And finally….
Deal with a rejection to make it a learning opportunity.
The Sales Improvement Workshop
These are just 17 additional benefits.
To check out the full course agenda, then hit the link The Sales Improvement Workshop
Everything you need to propel your sales career is there.
Things like:
Objection handling, call qualification, prospect selection, questioning skills, using trial closes, asking for commitment, proposition building, building rapport, gate keeper management and all the other elements of cold calling and B2B sales training that make your sales team successful and help them stand out in your competitive market space.
B2B Telesales Training and Cold Calling Skills have the power to revolutionise any business when they are done well!
Join us on The Sales Improvement Workshop and unleash your sales potential today
Call 0779 002 1885 for availability and rates, alternatively complete the contact form here and we'll be back in contact
Investing in B2B telesales training can revolutionise how your people sell, how they think about selling and cold calling and how much value they give to your prospects and future profitable customers.
The aim of the Morton Kyle B2B Telesales Training Course is to guarantee you fill your sales pipeline with filly qualified, high quality sales prospects that convert to orders, profit, turnover and a happy and stable sales team.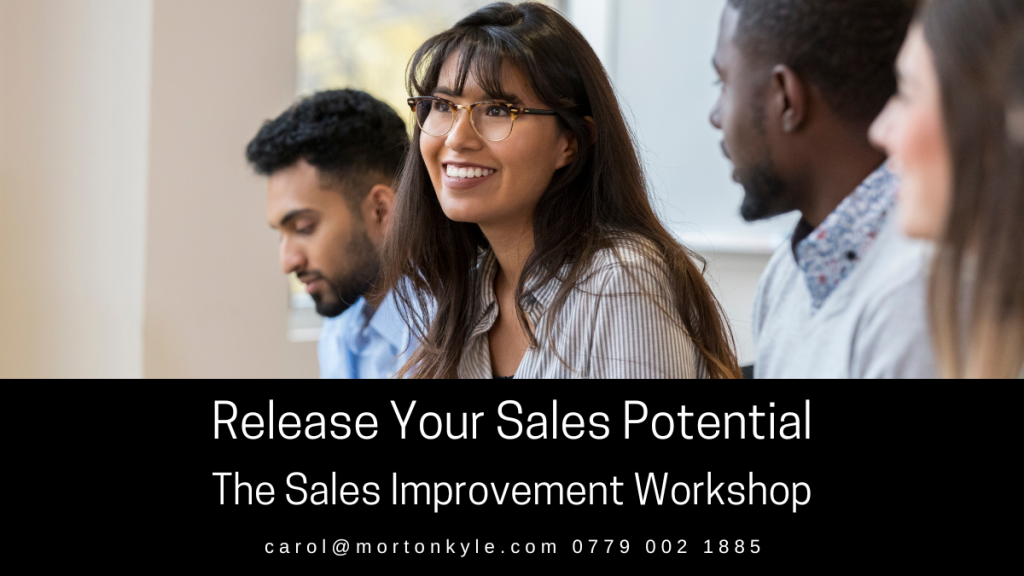 Latest posts by Carol Griffiths
(see all)