B2B Telesales Training at Morton Kyle covers all the great content you'd expect…

But this is not your run of the mill telesales training. I have a different view of cold calling, cold lead generation and telesales.

See what you think…
If you're running a telesales team, a new business team, appointment setters, lead generation and even direct sales teams, then cold calling is their (and maybe your) world.
Congratulations! You run a Telesales/Cold Calling Team
You're in the most exciting role in any business (ok, maybe Elon Musk has a more exciting role, sometimes?)
Your team are the life-force responsible for starting great, profitable, interesting and commercially driven relationship.
Your team make the magic happen. They are the magic!
There at the beginning.
The start of the process to transfers cash from your prospect's bank account to your business bank account.
To deliver value, education, engagement to your potential customers
Doing the toughest job…your team start to crank the sales wheel from cold!
It's the best skill set.
The best grounding in business.
Without a doubt, if it were left to me, cold calling and B2B sales training would be taught in schools!
Personally I love, adore, and am deeply interested in cold calling and telesales.
I'm even more interested in what makes the whole experience better.
Not just a little better.
But much better.
That's means it's more enjoyable for the person doing it, the company running the telesales team and the recipient of the cold call!
Here's 3 Things I Know About B2B Telesales and Cold Calling
The telesales conversations are nowhere near conversational enough
The expectations are sooooo high and so tunnel focused that the caller ends up missing as many as 94.2% of the opportunities that are out there…..Yes really 94.2%
Decision makers are quite happy to chat if the call firstly, doesn't sound like every other sales call s/he's ever had and secondly, the call adds value and brings insight to the interaction.
These are all easy fixes…
But I think there is something that's even more important.
It's the mindset of the telesales caller.
The way the new business development super star, the person in the sales trenches every day, how they think about the whole cold calling process and how that informs their interaction and dramatically reduces their rejection rates.
Because – after all – success breeds success in sales.
If you can dramatically reduce rejection rates you've got a fully motorised and dynamic sales team that believe they can achieve anything.
Welcome to the Morton Kyle B2B Telesales Training Course
Designed specifically for the cold callers, lead generators, appointment setters and new business developers who want to reach the top of their sales game.
Sales people committed to deliver the highest possible sales conversion rates, enjoy their job and bring valuable insights and delight to their prospects!
So Why Select Morton Kyle B2B Telesales Training?
As well as covering all the aspects of cold calling and B2B Telesales Training you'd expect I also cover how make EVERY single cold call and new business outreach matter, that's why my course covers how to: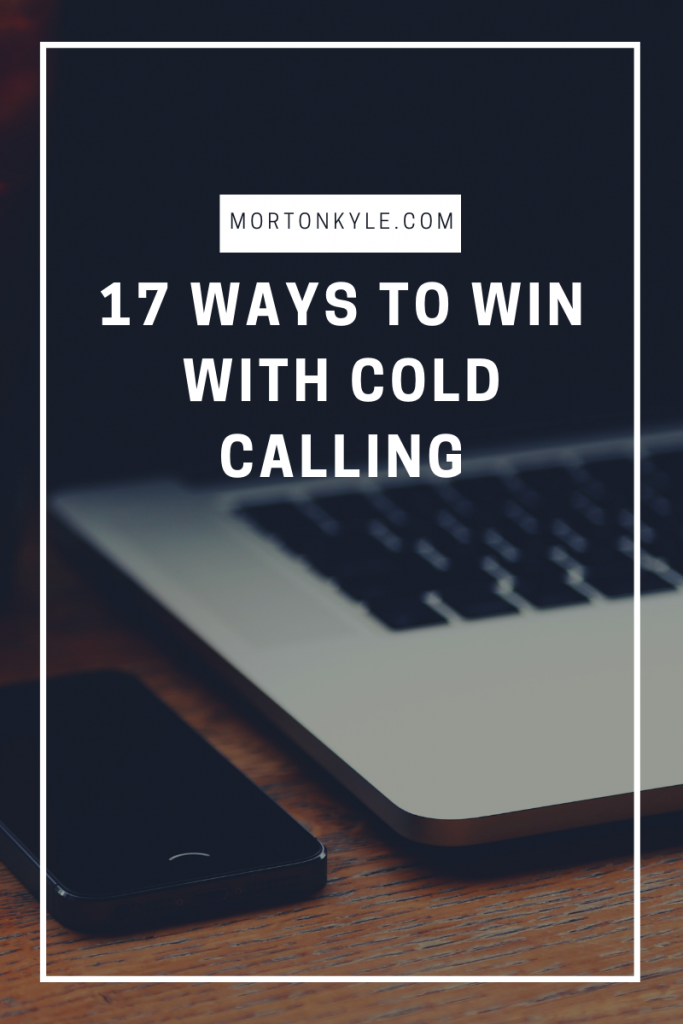 Book a meeting from a cold call
Arrange a demo
Gain a referral
Get two referrals!
Build industry insight for the buyer and gain industry insight from the buyer
Explore opportunities to start to build the relationship – speaking invitations, informal networking, corporate entertaining
Gather information on the competitors, the industry, the sector, the prospect's industry, sector and competitors
Fully profile a qualified lead
Explore any mutual connections and networks
Assess the potential for a commercial partnership
Promote the idea of partnerships other than just supplier/buyer relationships
Leave the prospect as a positive advocate of your business
Discover how to get on the preferred supplier list
Find out the timing for any realistic and valuable RFI (request for information) opportunities
Build a valuable connection where the door is always open
Start a relationship
Build an organisational family tree of prospects, referrers, influences, cheque book holders and any other stakeholders
And finally….
Deal with a rejection to make it a learning opportunity.
What Else?
As you'd expect the course also covers objection handling, call qualification, prospect selection, questioning skills, using trial closes, asking for commitment, proposition building, building rapport, gate keeper management and all the other elements of cold calling and B2B sales training that make your sales team successful and help them stand out in your competitive market space.
The Morton Kyle B2B Telesales Training and Cold Calling Course is a two day, high impact, results driven and highly interactive course.
Call 0779 002 1885 or email carol@mortonkyle.com for availability and rates
B2B Telesales Training can revolutionise how your people sell, how they think about selling and cold calling and how much value they give to your prospects and future profitable customers.
The aim of the Morton Kyle B2B Telesales Training Course is to guarantee you fill your sales pipeline with filly qualified, high quality sales prospects that convert to orders, profit, turnover and a happy and stable sales team.
Latest posts by Carol Griffiths
(see all)