Sales Improvement Workshop
The Sales Improvement Workshop is here because in 2023 you are most likely talking to buyers and prospects who know more than you do!
And if they don't know more than you do, then they THINK they do!
And that's even worse……
Today's buyer is often less interested in building a partnership with you, and more interested in getting your best price and then ghosting you….
You used to be one of few competitors in the sales arena, now you're one of many and overnight you're having to compete globally – yep, it's a geographically small but supplier rich sales world for a prospect who wants the best deal possible!
Decisions take longer.
There are tonnes more people involved in saying 'yes' (is that really the prospect's cleaner in on this call?)
Finance can be the new sales blocker, with the evil twin in Legal, who has never seen a contract they didn't think needed another 1598 clauses adding to it….
There is a new game in town and the buyers seem pretty good at it!
So, what can YOU do about it???
Well, quite a lot actually!
The Sales Improvement Workshop 2023 | Gets You Thinking Like Your Buyers and Prospects
No plan ever survives the first punch…and it's the same in sales sadly!
But, if you've got a decent idea of where and when the punch is going to land you've at least got a fighting chance of dodging it….so you live to stalk your ghosting prospects again fight another day.
So before you get the idea that you've wandered into Fight Club (shush, don't tell anyone) I should explain a little bit more about the UK's only Sales Improvement Workshop that's designed to give you half a chance of confidently taking on the 2023 Buyer, surviving the engagement AND being able to earn some decent commission for your bloody nose!
Sales Improvement Workshop | It's not just about your product and your pricing anymore!
A two-day course to positively and forever cure you and your sales team of falling foul of the the key common pitfalls presented by buyers in 2023, whether that's inbound enquiries, or outbound, good old fashioned appointment setting, demo booking and closing (don't forget to let me know which one you are when you book as it's two slightly different courses!)
Either way, here's 11 signs that you should get this course booked straight away!
Your sales pipeline is a MESS (I mean 20 cute puppies shredding a duvet messy!!) and your sales forecasting is a bit wobbly….so much so that you've taken to praying and crossing your fingers every time you've got to present an update to the board! Yikes!
You're starting to wonder if 'yes' and 'no' means different things to buyers than it used to…like 'yes, I'll get this signed off and back to you by Thursday' actually means ' you and I will never speak of this again and I am changing my telephone number just to make absolutely sure'
Your demos and your pitches are getting longer and loooooonger as you try to dredge up every single element that the buyer could find valuable
You're still using BANT (bless!) that's so cute….how's that working when the CFO joins the call? BOOM!
Your Sales Coaching Sessions have actually morphed into mutual therapy sessions with your Coach where you both swap horror stories about the how cruel buyers are…they never call, never write…and after all you've been through together, all the laughs you shared when teams kept falling over….
You're talking to the commercial team more and more to try and get a special deal passed, because this buyers promised to recommend you to all their pals!
You haven't stopped looking for a buyer ROI as much as listened whilst the buyer tells you they can get 10 times what you're offering for a quarter of the price somewhere else
You're thinking about getting 5 extra burner phones just to get around the fact you know the prospect has blocked your current number, and you have serious stalking needs still
You haven't seen anyone from marketing in weeks – last seen they were heading off on a country wide roadshow with bags of pens, stress balls and enough boiled sweets to sink an average sized ship
You thought sales was supposed to be fun and lots of cash!
Your competitors might not be making more money than you but at least their fax machine (I know!!!) pings an order through occasionally
Things are changing in 2023…The buyer is not always working with you to build a solution, they're working for themselves to build a reputation!
It used to be procurement teams that were great at throwing a spanner in the works…and totally screwing with your Hail Mary pass to get a deal in before the end of the week.
Then it turns our the Legal team are pretty hot at throwing a few spanners, wrenches, red pens themselves.
Just those words…'your contract's stuck in Legal' is enough to throw even the best sales person into a horror show. After all 'Legal' is a whole new world, with a whole new language, and a whole new relationship with time….and their duty of care is not to you the seller.
After all, what do they know about month end, quarter end, bonus claiming windows, sales cycle time, average order value, commission multipliers, team awards? Nothing! That's what.
It's Sales Prevention at its worst, especially where all you're trying to do is heroically save the economy but making the money flow around a bit more freely….come on now, you deserve a break occassionally.
Truth is – buyers, now know more than ever, are low on loyalty and high on getting exactly what they want, and at a price they want.
The sales person's just collateral damage!
But You've Got a Sales Job to Do!
If you're working with inbound leads then most buyers are in the last 25% of their buying journey by the time they get to you, and if you're working outbound sales then contact rates and talk times are through the floor compared to where they were 3 years ago…
The market for suppliers is crowded, the internet now not only has everyone's products and services available at a glance, night and day, but word of mouth has really given the old school challenging / educated / informed and aware Sales Specialist a run for their money!
So, from a Busy Buyer perspective everyone looks and sounds the same…AND so breaking through that noise and dealing with competitors who are happy to buy business takes a whole new ball game.
Welcome to the Sales Improvement Workshop
Designed specifically to deal with all of these issues and more – putting you back in the driving seat, in the best position to open more productive and profitable conversations, stay standing longer, dodge the punches with poise and finesse and collect some bonuses!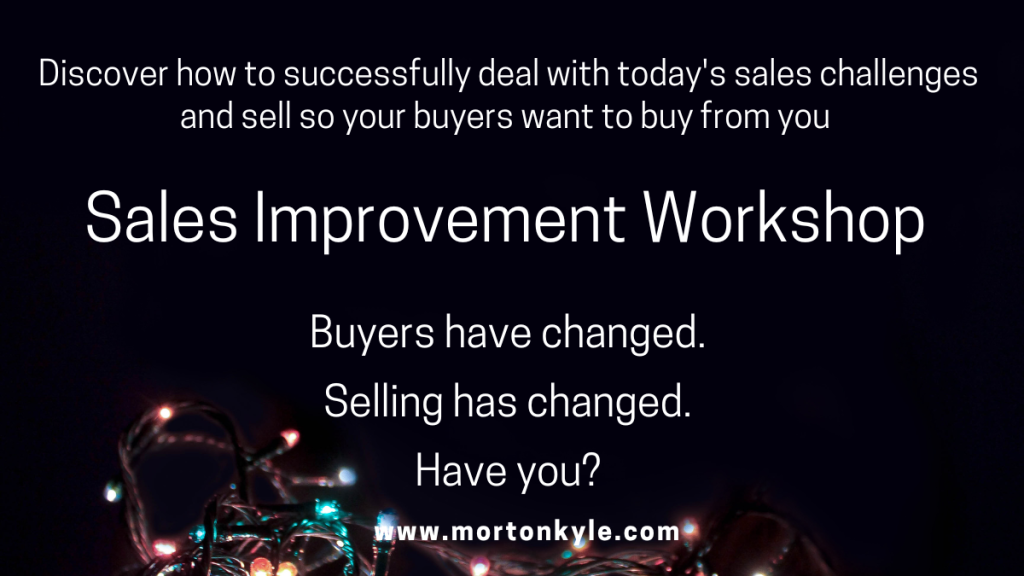 Stop Losing High Quality Sales Opportunities to Competitors
It's all on you!
What are you going to do differently to really shake it up and get the results you want, when you want them?
First things first – The Frictionless Sell! We'll cover this – and it will make so much sense you'll wonder why you've only just discovered it!
We'll tackle how you'll work around all of those other pesky problems…problems like
Keeping prospects keen! Less is more
Them using your sales pitch to reject you….
Sharing stuff they don't know, could never know, and need you for
Know when to hold and when to fold
Taking the deal off the table when they start to get keen
Not knowing where your next 10 deals are coming from (oh, no)
Being scared to ask the questions that will separate you from everyone else…
Finding out what's replaced BANT and how to use it to make sure you never get ghosted again!
Wasting your time dreaming about a life where you didn't have to sell anymore!
Also, banish, once and forever!
A sales pipeline that's like an abandoned carrier bag
Prospects who block your number straight after your pitch
A hope and pray view towards hitting sales target
That feeling on Monday morning!
Sounds good?
Welcome to the UK Sales Improvement Workshop 2023
The UK Sales Improvement Workshop is designed to deliver:
The most up to date and relevant business development and sales training based on understanding how your buyers are buying today
Pathways to eliminate the competition, even the discount competition, by building value into every step of the sales process and using the sales process as a key differentiator
A simple and workable sales process that consistently feeds the sales pipeline with high quality, well qualified sales opportunities
High levels of accountability within the sales team to help them recognise why they aren't achieving target and how to flip the trend
Insight into how to consistently ask for introductions and referrals
Techniques to consistently up sell, cross sell and maximise the average order value in any transaction
Ways to block out competitors by exploring the conversation between price, value and risk – this is an absolute GEM!!!
Relief from the 'no-decision' time wasters
Book the Leading How to Sell Workshop Today
All so your team can consistently create and close great sales opportunities
Where the prospects don't disappear half way through your sales process
Which means the business sees consistent and predictable, improved sales results,
So you get more sales, faster and with less stress and lower sales acquisition costs.
All in two intensive days!
Sales and Business Development Training Designed for Ambitious Sales Teams
It's great for new starters, seasoned sales professionals, sales leaders, team leaders, sales managers, directors, owner/managers, sales trainers, consultants.
Anyone carrying a sales target will take away insights that will help them build their very own sales engine…straight after leaving the training.
Whether from telesales, field sales, appointment generators, lead generators, sales improvement specialists.
The UK Sales Improvement Workshop is a fast track to selling well and consistently in 2023.…
It's the Ultimate How to Sell Workshop
Life is too short to have a sales job that's a struggle! So don't struggle!
The Sales Improvement Workshop is a solid 2 days!
It's a choc full sales intervention, taking the old ways of selling and flipping them on their head, it's crammed full of insights, practical strategies, and sales improvement gems.
And, fast acting sales win hints, tips, strategies, call flows and techniques that you can employ in your business immediately.
Get back to work – fully ready to see a real shift in sales habits, sales activities, sales thinking and sales results.
Learn to sell in 2023 with ease, confidence and passion… and have the best fun you can have at work!
You'll See a BIG Difference in Your Sales Results As Soon As You Get Back to Selling.
And, even better, after attending this course, you'll never think about sales and business development in quite the same way again.
Join me on the UK Sales Improvement Workshop and I'll show you how high performing sales professionals achieve the results they do in 2023
What's Covered in the UK Sales Improvement Workshop?
It's a full two-day session, delivered onsite or virtually in blocks over 4 weeks
I've split the course down into a few key sections.
This will help you understand all the great stuff I'll be sharing.
The Sales Improvement Workshop sections are:
1. How to build a sales pipeline full of HOT sales prospects who want to buy from you. In 2023 the quality of your sales pipeline and sales process matters more than you imagine….especially if you're going to be in sales for a while…
2. How to create your own competitive sales pitch, because you won't get the extraordinary sales results you want if you just sound like everyone else! When you sound just like everyone else the only yardstick the prospect will use is price – that's not a great place to be.
3. How to make your sales pitch so compelling that the prospect will think 'wow, this is a no-brainer, where do I sign?' . In 2023, selling is so much more than just passing on information and hoping for the best. Join us and discover how to influence, how to persuade, how to build a business case for the buyer, help them find budget, help them give you a big, loud YES!
4. How to maximise your prices using three simple techniques, so your buyer understands the huge and overwhelming value of buying from you. How you think about price dictates your pitch, your confidence, your value. Bring price, risk and value into the conversation to really demonstrate how your buyer wins from buying from you.
5. How to maximise your profits and not leave cash on the table so that generating referrals, cross selling and up selling just becomes habit that means your pipeline will always be strong. It's the very best way to really increase your average order value.
6. How to improve the flow and speed of prospects through your sales funnel, avoiding those costly mistakes that means your sales funnel becomes the ATM of your dreams!
7. How to prevent prospects ghosting you and disappearing off the face of the earth once you've sent your quote
This is Sales Improvement PLUS so much more…
….like how to use negative questioning to pull the prospect closer
When to take control of the sale and drive the behaviours you want in the prospect and…
When to walk away!
How to welcome objections and use them to spring board to a smoother sale…
Plus, discover your own very special sales recipe.
With this – hitting target a walk in the park.
And, you'll get all the insights you need to give you as much as an extra 2 selling hours per day.
Simply by adopting one small change into how you sell.
And:
You'll discover the habits, activities, skills, daily sales plan and mindset that will help you cut through the noise that can pollute a selling day and get absolute focus on those activities that deliver meaningful sales outputs
And it doesn't stop there…
You get a full sales support and sales accountability program to make sure what you learn converts to orders!
This is not just 'another sales training course'.
See, now you understand why this is a choc full workshop
UK Sales Improvement Workshop – is it really for you?
Check this out… I'll show you how you can:
Structure your sales pitch so you know if you'll make a sale within the first 5 minutes
Immediately and positively differentiate yourself from any of your competitors
Cross sell, up sell, and gain referrals as a matter of course
Massively improve your sales conversion rate …how does that sound?
Build your sales pipeline so you'll hit sales target easily
Increase your sales turnover/ sales profits by changing one thing in your sales pitch
Show you how your competitors can actually help you improve your sales pitch
Highlight the three most important things you should be saying in a sales pitch that make the difference between goodbye and a signed order
Demonstrate how easily it is for you to get the buyer to sell your services and your products to himself.

See how easy it is to create an endless supply of top quality leads…
After you've attended the Sales Improvement Workshop, I know you'll change the way you think and go about selling forever.
Why?
There is a reason that over 54% of sales people will struggle this year, but you'll reduce this happening in your sales team because of one simple thing that I'll share with you during our time together.
Struggling to sell and not hitting sales target are primarily due to one single thing. Once you know what it is, you'll never struggle to smash your sales target again.
Never.
Book your dates now, call to check availability.
These workshops are limited.
Complete your details below to book a call to discuss how the Sales Improvement Workshop will deliver sales results that match your sales ambitions
Alternatively,
Happy Selling
Look forward to seeing you on the next Sales Improvement Workshop
Latest posts by Carol Griffiths
(see all)