Improving sales performance takes effort, focus and energy…after all, speed in the wrong direction is no-one's goal!
Welcome to Fix &Flow – Sales Game Changer System, the 90 Day Sales Performance Improvement Program for ambitious B2B sales functions and their leaders.
It's a 90 day sprint sales challenge -and is the fastest way to make permanent, positive improvements to your sales function.
Done for you, it's a proven sales performance improvement system focusing on all 130 sales leaver in a documented plan to ensure you get the sales interventions you need, when you need them
Further to initial audit, you'll discover which sales leavers will, given the right attention, give you the biggest sales lift, focus your activities and attention of building a sales engine to fully unleash the full sales potential of your team.
In just 90 days – it's a sales sprint challenge that delivers, building a culture of continuous sales improvement and ambition, with full transfer to your internal sales leadership team.
So…
Let's chat…but only if you are really serious about improving sales performance
Serious enough to give it EVERYTHING you've got for 90 days.
Are you prepared to knuckle down and do whatever it takes to set the sales team up for monumental success?
Such success that lasts way beyond the memory of the hard work you did to get them there?
And what if you created a foundation to start the scaling process in your sales team?
And you got clear sight of a path from where you are now to where you want to be…
Would you buckle up for the journey then?
Fully guided, supported and focused?
What if the payback was:
Increased average order value
Higher close rate
Higher quality customers
More accurate / predictable sales forecasts
Reducing waste – being able to bill more with less resources
Shorter sales cycle?
Fewer lost sales?
Reduce discounts and discounting
Building key sales differentiators from your competitors
Cleaner sales pipeline?
Higher skilled, more efficient sales staff?
Lower staff turnover
Easier to on board staff due to a universal sales process
Meaningful sales management information and recovery plans
Would you be curious to discover how one firm got their average order value from less than £750 to over 3k?
How another got their conversion rate from 1:20 to 1:7?
And boosted profits by over 50%?
How a professional services firm gets close rates of over 80%?
Call to discuss how you could drive improvements through your sales team and their performance in less time than you think.
Just 90 days between you and where you'd love to be.
Why? Because how I see it is like this…
You're looking at the sales figures.
Last year versus this year.
Last quarter against target.
This quarters target versus this quarters pipeline.
And, you're either:
Winning and pulling ahead, perhaps doing more with less.
Closing bigger deals, more deals, growing the customer base, retaining more customers, building market share…
Or you're holding steady, which is really going backwards.
Sales is a binary situation.
You're either pulling ahead or slipping behind.
Where are you?
Perhaps your business is in a situation where you:
See your sales performance is in decline
Want to boost your order book prior to selling or advertising your firm
Want to avoid insolvency and bankruptcy, you need to rescue an under performing division
Need to launch, or relaunch, a new product
Have an aggressive competitor shredding your sales pipeline
Watch your costs getting higher and your discounts bigger
Want to enter a new market
Need to revitalise and regain control of a wayward sales function
Have plateaued sales and need accelerated sales growth
Want to see what sales, profit and turnover your business is really capable of achieving
Have ambitious growth plans and you need a high volume injection of high quality and high value business
Fix & Flow is a 90 day rapid rescue, accelerated sales growth and sales turnaround system, because concerted action to rapidly tackle the job of improving sales performance requires a stepped and proven approach.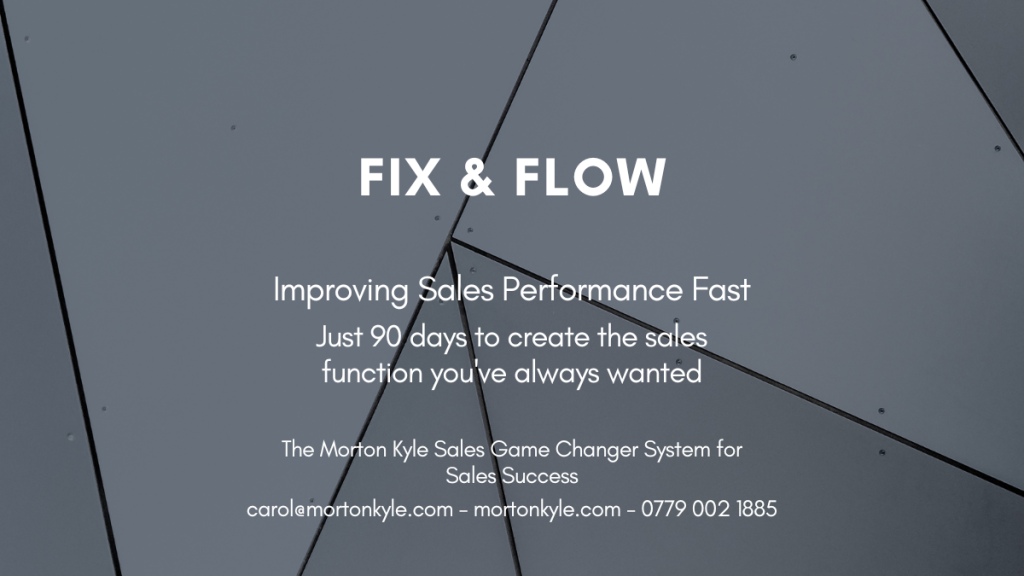 Fix & Flow supports you in improving sales performance in JUST 90 DAYS
It works because it is:
Results driven – turnover, margin, sales pipeline value
Intensive fix and repair
Focused systems with activities and tasks to deliver results
For 90 days, consistent habits, focus, analysis and measurement
Fully supported, step by step, side by side to build a sales engine to deliver the sales results you need
Sales Performance Improvement Means Taking BIG Action NOW
The key is not to wait until it's too late, because running out of time and money means also running out of options.
Sometimes improving sales performance isn't always a choice, it's a necessity to save jobs, legacy, value, futures.
When that happens it's all hands to the pump.
Time is running out brings it's own set of constraints, instead every hour counts.
Money is often in short supply, even for the most vital of resources.
Time is in even shorter supply, so testing, talking and thinking all come at a huge cost.
Action is the only solution.
Knowing what to do, how to do and when to do, is crucial.
As is knowing what NOT to do!
Sales Performance Improvement | Using Fixed Goals and Milestones
Improving sales performance relies on proactive engagement and highly tailored intervention, and Fix & Flow – Sales Game Changer System covers all this, and more.
Please complete the following and I'll be in contact shortly
Fix and Flow Game Changer System | 90 Day Sales Performance Improvement Solution
Based on extensive research, the Sales Game Changer System is over 14 years old, during which its undergone continual refinement and improvement which means shorter implementation times and faster, better results.
Such was its success, it was published in November 2014 for the The Sheffield Management School Executive MBA Program, as 'A Systematic Process for the Turnaround of a Failing Sales Function and Business'.
The research investigated the main causes of failure in the sales functions including sales process, sales delivery, sales strategy, pricing and profit/revenue creation, competitor impact, competitor advantage, competitiveness, culture, innovation, responsiveness and positioning; as well as Sales Leadership, Sales Management and Performance Management and MI usage within the business.
Improving Sales Performance – A Research Based Approach.
The aim of the research was to:
Indicate potential sales dips before they occur and deliver a sales based early warning system, and use the early warning signals to create urgency, and accelerate the speed of action in response, which means that negative sales factors are mitigated, thus reducing their impact, and in some cases remove the impact entirely.
Systemise a repeatable process easily adopted by business management teams with minimum external intervention
Apply this system to the accelerated sales growth of already successful businesses.
Real world failing business have benefited from this system to reverse their sales decline and accelerate their sales growth using profit and turnover as key indicators of success.
A number of organisations across several industry sectors have used this system to deliver a marked change in sales results and seen vast improvements in sales performance.
Fix & Flow – Sales Game Changer System delivers relief for struggling firms because of the speed, focus and results it delivers. All critical to quickly break out from a sales plateau, launch new service/products, disrupt their market.
Complete the form above and let's see how Fix and Flow will help you
Challenge yourself to improve your sales performance starting today…just complete the four question registration / application above because it's the easiest way to start your journey to improving sales performance .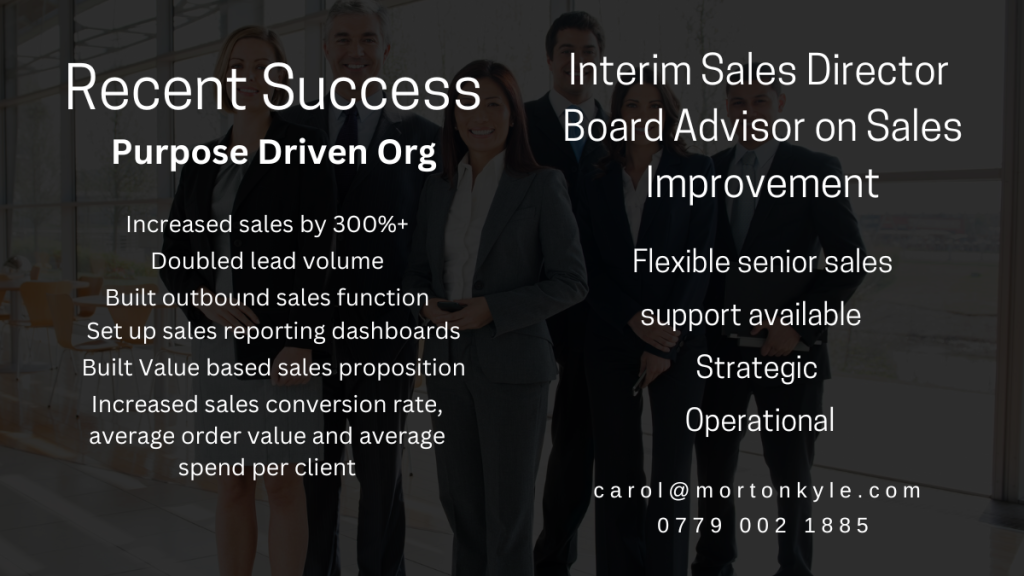 Latest posts by Carol Griffiths
(see all)