B2B SALES TRAINING| BUSINESS DEVELOPMENT | SALES IMPROVEMENT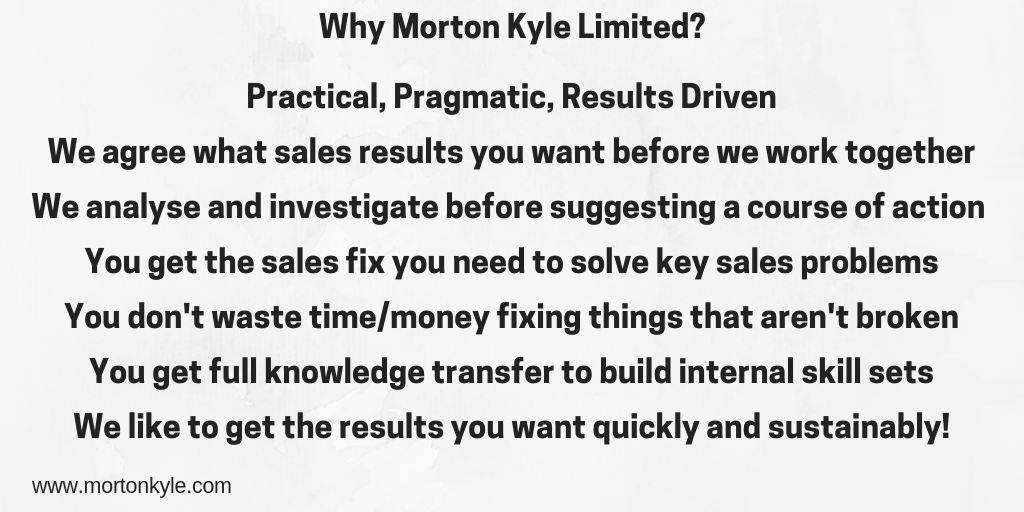 Matching Your Sales Results to Your Sales Ambitions
Discover how Morton Kyle Limited helped clients to:
✔ X3 the average order value of a commodity based product in a highly competitive space
✔ Improved sit rates for appointments by over 80%
✔ Boosted close rates from 1:26 to 1:4
✔ Reconfigured pricing plans to deliver a 50%+ increase in profits
✔ Increased telephone generated appointments by over 75%
✔ Reduced sales acquisition costs and sales cycle times by 40%+
✔ Built sales KPI's into each part of the sales process to eliminate sales leaks
For more information – hit the links below
Call Now                                    Book Your Free Sales Consultation
CEO | Global BPO…Carol is the most dynamic and energetic Consultant I have ever worked with. She has helped me re-shape our entire sales process which resulted in a 50% leap in profits! Carol has the flair and imagination to add measurable value to any business.