The Morton Kyle Sales Training Charter
Morton Kyle Limited B2B Sales Training Charter outlines how we ensure your sales training sticks, so you, your business, and your sales team get benefit from our courses long after we've delivered the sales results we promised.
Our sales training programs are results driven, high impact & are deigned to achieve key pre-agreed sales metrics.
Key pre-agreed sales metrics we both sign up to.
Before we even start to think about designing any course, we'll have done a deep dive into the performance of the sales function over the last 12 months.
Just so we know we'll be delivering exactly the sales training you need to get the sales results you need.
You see, we think it's important to be up front and crystal clear about our objectives in working together.
Agreeing clear results, ownership and accountability post training delivery…before we start.
That's why we pride ourselves on listening to what you want, what you need, and what you think is best for your business.
We then take this information into the sales function to see what is possible using our services,
We want to help you unleash your greatest sales potential and we can do that if we both share our very best practices…based on what's really going on in your sales function, what the existing sales skills sets, sales potential and existing sales performance management expertise is.
So, please read this to discover how our sales training courses work & how you can get the most from working with us.
With that in mind we have a 10 point Sales Training Charter. It outlines our commitment to our clients, our attendees and any stakeholders that champion our courses.
The 10 Point Morton Kyle Sales Training Charter
1. All B2B sales training is results focused, relevant, high-impact and designed for you to get the maximum return on investment. Where possible we work to the shortest possible time scales.
2. None of our courses contain any padding. That's right, no padding, no fluff or useless exercises. Just effective sales techniques to solve your sales problems.
3. We don't just subscribe to one sales methodology. We use a sales training toolkit drawn from our working experience of many sales methods.
4. Our training is based on thorough training needs analysis with the attendees.
5. We only design your B2B sales training course after analysing your sales team's results for the last six months. That way we can ensure we are addressing relevant trends and not monthly blips.
6. Pre-design we speak with at least 10% of the attendees or a minimum of 5 of the attendees. Whichever is the greater.
7. We agree milestones with you for behavioural changes and desired sales results. You get to monitor our progress against your targets.
8. We will work with your nominated sales training internal champion throughout the whole process. This facilitates full knowledge transfer so you can embed the new skills into your business.
9. To ensure that you continue to get ongoing business benefit from engaging with a Morton Kyle sales training courses. On completion we provide you with a leading sales KPI matrix. This way you can predict sales performance and plan suitable interventions at the right time.
10. At the end of the project we will agree a way for you to continuously benefit from the training that you have paid for received and enjoyed.
B2B Sales Training That Delivers
As a professional and ethical B2B sales training organisation Morton Kyle Limited prides itself on being able to deliver timely sales training interventions when your business needs them.
You receive sales improvement solutions in the format that your business needs.
It matters to us that you derive benefit long after the formal training has taken place.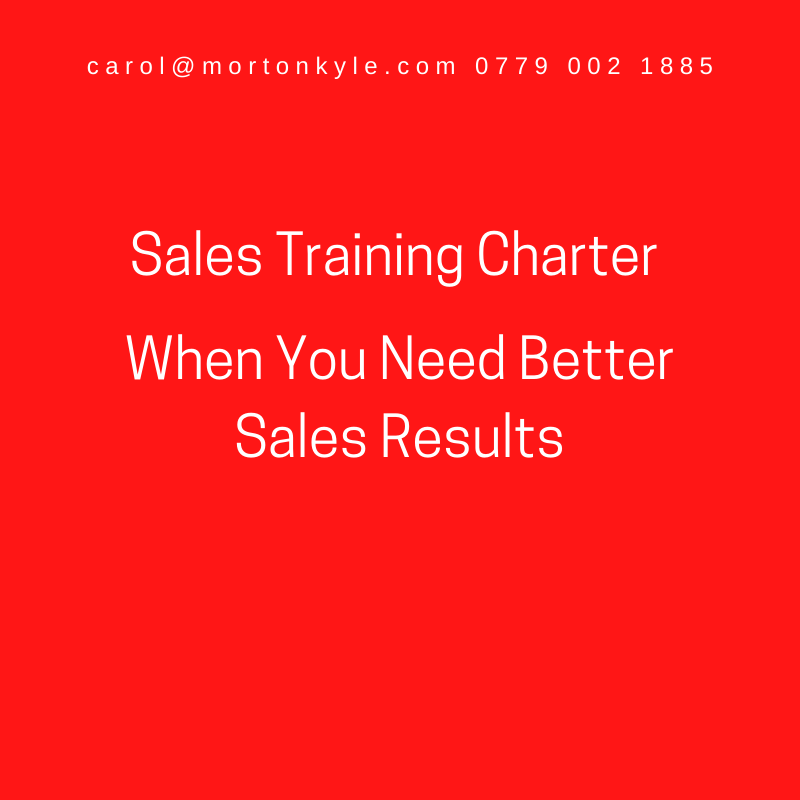 Contact Us to Discuss Your B2B Sales Training Needs
For more detail on how we work with our clients to deliver sales training that delivers, call Carol on 0779 002 1885 or email carol@mortonkyle.com
If you're interested in our range of sales improvement services: sales audits/sales process audits, strategy workshops, sales coaching or sales consulting services, check out www.mortonkyle.com for more details.
If you are looking for generic sales training, either in house or as an open course – check out The Sales Improvement Workshop .
This workshop can be delivered in house to groups of 5+ or as an open course.
Contact us for dates and locations.
The Morton Kyle Sales Training Charter helps us to deliver sales training that sticks, so you get the sales results you want.
Latest posts by Carol Griffiths
(see all)