Sales management training is not just for sales managers!
Anyone who is responsible for helping the sales team function at optimal levels and successfully needs to look at their role as a sales trouble shooter and internal consultant
Developing these skills in the sales management team and the broader sales leadership function is a key stepping stone in optimising their team performance and their sales results
Sales management training – tackling some of the critical sales issues – is the fastest way to get new ideas, insights and wisdom into your business.
After all, helping key sales team leaders to fully unleash the sales potential within the business is not just good for the business.
It's great for attracting and keeping high quality sales talent.
Critical for boosting engagement and motivation.
Supporting and demonstrating a growth mindset – an environment of continual learning and development.
All key objectives if your business is keep to step outside of your competitive space and deliver something different to customers, prospects, employees and business stake holders.
Sales Management Training to Solve Real World Sales Problems
Having worked in the sales, business development and sales coaching industry for over 30 years, we'd like to think we know a little about common sales challenges faced by sales managers and sales leaders.
We talk to 100's of sales professionals across many diverse sales led industries every year.
Based on the information they provide, we've designed our sales management training to deliberately not cover everything.
Instead we focus on solving key, real world sales issues that leading edge sales leadership and sales management teams have to confront every single day.
Concise Modular Sales Management Training | Designed for Sales Leaders
All of the modules are stand alone sales management training courses.
Many can be delivered in just one morning. Some over 5 – 7 hrs.
They are results orientated and high impact.
Whilst light on time consuming and non-relevant theory.
But, they are heavy on practical action points that drive sales improvement fast.
The Morton Kyle Sales Management Training courses allow sales function to make dramatic step changes to tackle thorny sales issues, as they crop up.
Sales Management Training | Summary of Current Modules
If you can't see what you are looking for here?
It's not a comprehensive list – so ask if you;re looking for something more bespoke.
Or, if you have a very specific sales challenge you'd like to address the use the contact form on the right hand side of this page to book a call in to discuss.
Value Added Selling – Standing Out from the Competition – Capitalising on How You Sell, Not What You Sell.
This is the module for you if you're being forced to discount to win business.
Or if you're in a price sensitive arena.
Maybe you're in a highly commoditised market.
Perhaps you're being eaten alive by hungry competitors who are buying business, muddying the market and devaluing your product/services?
Perhaps you simply want to distinguish yourself from the crowd?
Get prospects see you as being experts, head and shoulders above your competitors.
You can also use this module to energise the team, get the sales function to look at the business products and services in another way, and understand the buying process from the prospects point of view.
What Does Disruptive Selling Look Like in My Business and Should I Use It?
Disruptive selling is a powerful sales technique that can easily de-stabilise markets when it's applied correctly.
As buyer expectations evolve and buyer patterns change then Disruptive selling can capture previously resistant prospects.
Disruptive selling is powerful in building high quality sales relationships based on peer to peer exchange
Conventional sales boundaries can be removed when Disruptive selling skills are used professionally.
Discover how to combine this module with some strong product knowledge and market sector knowledge or niche market activity to really see how powerful it can be.
Relationship Driven Selling – What Does Relationship Driven Selling Look Like in My Business and Should I Use It?
Relationship Driven selling is not just for you if you're dealing with higher sales order values, longer sales cycles, an a more complex sell.
It suits every level and type of selling, even selling within highly competitive and commoditised industries.
But, from a foundation of building strong relationships, mapping buying and selling processes, Relationship Driven selling can bring huge benefits if you're looking to scale up from smaller sales to enterprise sales.
In it's simplest form Relationship Driven selling is based on a simple premise.
That two peer to peer problem solvers are better than one.
Creating breakthrough solutions together, conventional roles of buyer and seller morph into a collaborate partnership to drive through change and create a new, perhaps previously unconsidered, solutions to an old problem.
And even unacknowledged problems!
In this the sales person acts as an expert sounding board, shaping the thinking and forging common aims and goals via collaborative pathways.
Consultative Solution Selling – What Does Consultative Selling/Solution Selling Look Like in My Business and Should I Use It?
The foundation of all modern evolved and evolving sales methods, Consultative Solution selling relies on you identifying enough key drivers within the buyers current situation to necessitate a rethink.
Consultative Solution Selling is a must for any sales function that is in a hit and run selling mindset and wants to move to a more consultative methods.
Consultative Solution Selling is a key foundation of any form of selling in business to business sales.
It's the first step for any organisation looking to boost average order values, build better relationships and maximise on cross sell, up sell and referral generation.
Account Based Selling – What Does Account Based Selling Look Like in My Business and Should I Use It?
Account based selling is less about hunting and farming those elusive 'golden' leads and more about predicting what industry/sector/niche is most likely to have a viable need for your product or service.
More and more important as GDPR takes hold, as buyers become more elusive and business strive for larger clients, stronger relationships, niche markets, higher levels of buyer loyalty.
Account based selling is about knowing your industry, your niche, your market and your opportunities to exploit the changes and demands/trends within those.
Very useful where sales-led firms are looking for partnerships as much as opportunities to invoice. Account based selling can support these aims and make the ROI form sales activities increase dramatically.
Also supports a more entrepreneurial and enterprise mindset suitable for fast movers/first to market and organisations with a need to lead the market rather than be led.
Designing a Sales Process that Works – Using Your Sales Process and Sales Metrics to Drive Sales Growth and Profit.
Often designing a sales process is a critical success factor in sales improvement.
You get to decide what to do. What not to do. What adds value and what doesn't.
You get to see what is causing you to lose sales and what is helping you win new raving fans.
Adding sales metrics to a well thought out sales process is a turning point in the efficiency/effectiveness journey for many sales team.
You can start here and see a difference in a very short space of time.
If you're seeking clarity around your sales function this is the sales management module for you.
Building a Great Call Structure for Cold Calling – Cold Calling Sales Call Structures that Work.
Engaging high level sales decision makers in cold calling, even those that are social contacts, still takes a heap of focused effort.
The worst case is when there is no standard call structure and efforts, and therefore results, are hit a and miss.
Opportunities are burned.
Potential orders lost.
Staff dejected and unmotivated.
Stress levels soar.
Now you can discover the language and sales call structure that will stop all of that.
A call structure to increase contact rates, negotiate gate keepers, and engage prospects with confidence, credibility and curiosity.
Plus learn everything you need to know about REAL sales call qualification and need creation and asking for the meeting, the demo, the order.
Cold calling is often made more complicated than it really is.
This module draws a clean line between daily sales activities and a full sales diary.
Sales Coaching – How to Coach Sales People for Sales Success.
This is the single most valuable skill that any sales leader or sales manager brings to their sales team.
Sales team struggling?
Good quality sales coaching is the fastest, cheapest, most effective way to boost sales activity, call quality.
Sales call coaching is also the start to create a formal performance management culture within the business.
Discover how to coach, how to monitor, how to feedback.
We'll also look at how to challenge behaviours, to motivate and build accountability and self management within the sales team.
You'll discover the value of peer to peer support groups in the sales environment, building a sales playbook and creating skills specialists within the team.
Face to Face Sales Call Structures that Convert – Structure Sales Presentations that Convert Prospects to Buyers.
You've seen above the options you have in terms of sales methodologies.
I believe, and therefore I train, in all of these. I also believe that there is no, one size fits all sales call structure.
There is, however, a sales mindset that is the very smartest foundation for any and all sales based conversations.
It's the same whether that's on the telephone, face to face, networking or even getting warmed up for hard-core aerobics class.
In this module we specifically look at face to face interactions, capitalising on all the elements of the sales methodologies.
Think of it as installing the Sales Software into your core thinking.
Sales software so powerful that sales based conversations become mutually educational, insightful, challenging, educational and collaborative for both parties.
The Objection Free Sales Pitch – Sales People Create Objections for Buyers – How to Avoid Creating Objections.
Buyers rarely have real objections.
That's a fact.
What buyers do have are questions around what a sales person has told them.
That sentence alone should give you some idea as to why I think most sales objections are caused by the sales person.
If that's true (and it is) then sales objections can be avoided at best, and minimised always.
Structuring a sales pitch so that it's objection free is less about what you say and more about how you say it.
This is a high impact course and flips a pretty big light switch for anyone in any form of sales role.
Building Your Sales Play Book – How to Replicate Sales Best Practice and Maintain a High Performance Sales Culture.
Of course, building a Sales Play Book is a huge job.
This module looks at the framework you should use.
How to build it and how to use your sales playbook once it's up and running.
Sales play books have a common theme, they get created and forgotten.
This sales play book won't.
If you're struggling to get consistency across your sales team this is the module for you.
You might be seeing lack of consistency either in terms of results, behaviours, process or even call patterns.
If this is the case a dynamic sales playbook will help you (start to) drive the changes you want to make in the most controlled, intuitive and productive way.
Sales Metric and Sales Performance Management – What Sales Metrics to Use, How, When and Why.
A minefield.
Sales metrics are great. But too often they are measured after the game has finished and the results are posted.
In this module we look at all the sales levers and metrics you could use to enhance, predict and stabilise sales in your team.
Many sales metrics or sales performance measures will totally conflict.
I've seen managers try to drive call volume and drive talk time at the same time…and wonder why the sales team get confused.
This sales key performance indicator module deep dives into sales metrics that work.
Looking at sales metrics that boost sales, increase motivation and but the sales person in the driving seat with accountability for how they operate and spend their time.
It's also the start of the performance management process in many firms, we also cover this during the module.
Simple Sales Forecasting | Discover How to Build Accuracy into Your Sales Forecasts
It's a common challenge. It happens way more often than it should. And the impacts can be catastrophic.
But there is a way to mitigate the crumbling sales forecast.
A way to ensure that you remove a high proportion of the guess work.
Where you confer responsibility to the sales reps and
Where you use the sales forecast as a live and dynamic tool to run your everyday sales activities
You can check out details here – Simple Sales Forecasting
Summary: Sales Management Training to Solve Real World Sales Probelms
Too many sales management courses are overwhelming.
So much information. So much theory.
Too bloated to get introduced to the business in their raw form.
This is not the case with the Morton Kyle Sales Management training.
It's been designed to be implemented immediately, so your team and your business benefit from the course immediately.
It's also sales management training designed to get results by solving some of the more critical front end sales challenges faced by sales leaders today.
So much new information is pumped out every single day.
New trends, new fads, new must-dos.
We cut through the noise.
Our sales management training courses bring you proven sales methods, sales management and business thinking to help you achieve your sales targets and business ambitions as efficiently and as effectively as possible.
All of the Morton Kyle sales management training modules here are available as standalone modules.
They can also be combined in a way to address your specific business challenges.
The choice is yours.
Just let us know what you want.
To discuss how these will work for you contact Carol on 0779 002 1885
You can also check out the Morton Kyle Sales Training Charter
If you don't see what you're looking for here, then call us. Tell us what you want, we'll add it to our list for you.
Sales management training and sales leadership training is a critical investment in bringing new thinking and new ways of working into the business.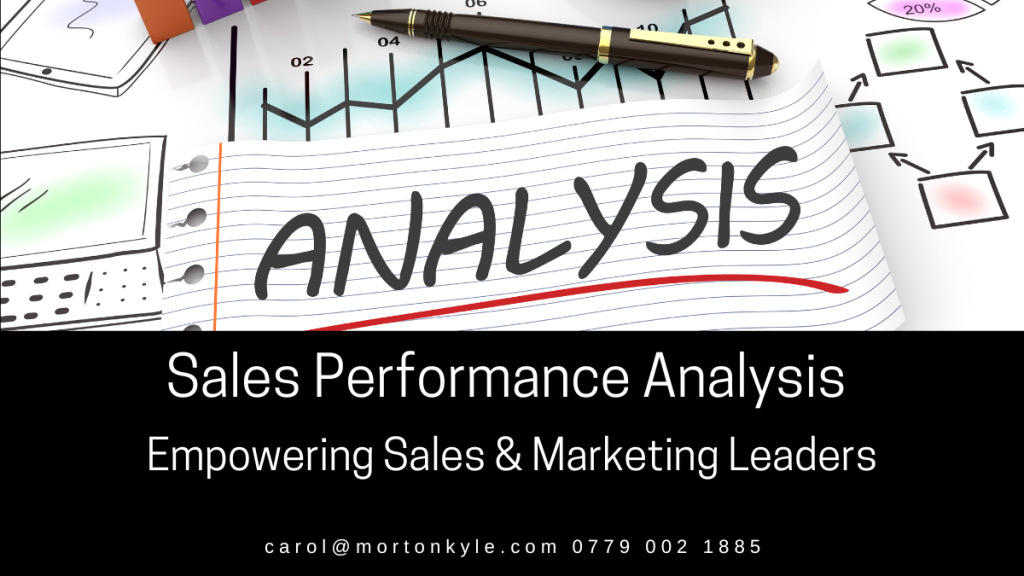 Latest posts by Carol Griffiths
(see all)