What sales results and key behaviour changes do you want to see after the sales and business training courses?
Because if we can identify clearly what the post-course sales function should look like, then we can design the perfect sales and business development course for you!
The sales and business development course that closes the gap between where you are and where you'd like to be.
No padding.
No waste.
Just pure sales support to bridge the well-defined gap.
The sales and business development course that shifts the needle, gets you the sales results you want, and continues to do so long after we've left the building.
That's the Morton Kyle Way – check out the Morton Kyle Sales Training Charter
Whatever You're Looking for…
Whether that's
A working sales function
More customers
Better customers
More profit
Higher turnover
Bigger market share
Easier more efficient ways to get good quality business
Simpler ways for your sales and marketing message to stand out from the competitors in your market space
A predictable system for generating good quality sales opportunities that close
Ways for filling your sales funnel with top quality leads
A sales pipeline that's easy to manage so that it pumps out profitable sales on a regular basis…
Professional and motivated sales staff
A great order book so you can sleep at night
A high level of confidence and certainty about the future success of your business
Your competitors to all go away and play somewhere else
A steady stream of referrals
Maximising all cross sell and up sell opportunities
A self-managed sales function
A name in your industry that's synonymous with quality and integrity
Never to have to worry about sales results ever again!
We can build that into your Sales and Business Development Training Course
That's why the Morton Kyle Sales and Business Development Training always starts with the end in mind…every day, we'll ask you and your team…
What do you want to be true by the end of this training course?
Then we'll deliver…guaranteed.
We do this because prior to any work being done to build your sales training course – we conduct a free sales training needs analysis for you – you can hit the link to find out what's included. A free sales training needs analysis comes as standard with all Morton Kyle Sales and Business Development Training Courses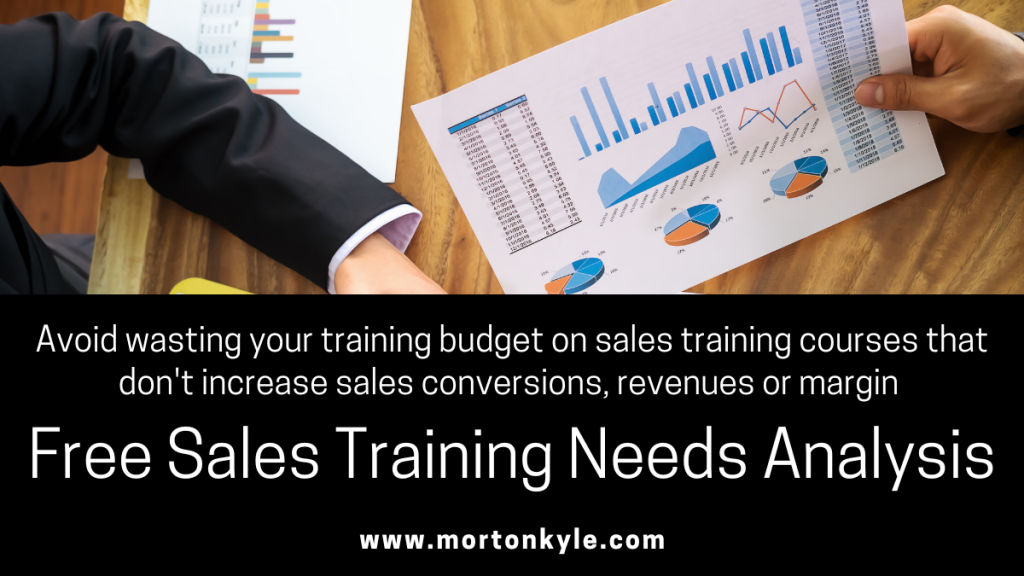 How Do We Do That?
Some part of working out how to deliver the sales and business development outputs you need, the sales training course that will shift the sales performance, mobilise the drive for sales improvement means we'll be working closely with your sales leaders and your sales team.
It may involve spending some time in a room talking about how we tackle all these problems, but we might also spend sometime in the field, or sometime talking 1-2-1, we might spend some time reviewing calls/role play performances…analysing the last 12 or 6 months sales data…whatever it takes.
All so we can design the best sales and business development training for your business.
Sales and business development training that works, and continues to work after we've left.
That your sales function responds to, engages with, uses and reaps the rewards from.
Fast!
The Morton Kyle Sales an Business Development Sales Training courses cover a multitude of sales disciples and are delivered at a level that suits the needs of the individual.
Courses cover: New business development, account management and development, cross selling, creating competitive advantage, building value and selling the price, filling the sales pipeline with high quality, high converting sales prospects, sales improvement, sales coaching, sales leadership and sales strategy…or a combination of any of the above!
You can find more details about our courses here – B2B Sales Training Courses
But the best way to find out about how we can help you develop your sales team is to call, let's have a chat
You Drive the Sales and Business Development Training Courses
Of course because it's a tailor made solution for your business, the perfect Sales and Business Development Improvement Solution, we'll give you all the skills you need internally to drive the sales outputs you need to ensure your business gets the full benefit of the course.
That way, you get a much higher ROI on your training budget.
Your sales team get immediate skills and techniques.
There need be no complex, expensive and time consuming roll out.
It's typically faster, more cost effective and more deeply embedded in the culture and practices of your sales function
Easier to manage, monitor and motivate the team based on a working and proven solution
Why Sales and Business Development Training is NOT a One -Time Event
You'll have new starters.
Your competitors will change.
As you grow, enter new markets, build new products and services you'll need to develop your sales skills time and time again.
At Morton Kyle, we build in to our sales training courses an element of continuous sales improvement.
That's Why…
…our courses form the backbone of the key building blocks of any continuous sales improvement program:
How to Conduct High Performance Sales Coaching
Continuous Sales Improvement Via Sales Auditing
Sales Metric Management
Sales Performance Management from Day 1
Now you can see why our courses work so well.
Instead of thinking about Sales and Business Development Training, we look on our role as that of Sales and Business Development Problem Solving
Now to find out how I can solve your sales and business development problems, and not with a tired training agenda from the 1970's, but instead with a plan that's focused on speed and profit then just hit the link below and let's chat
Latest posts by Carol Griffiths
(see all)