Managing Director | Global Engineering Firm…
I can confirm that on all the occasions we have engaged the services of Carol she has proved to be invaluable in imparting her knowledge in a way that enables us to make clear and measurable decisions regarding our development of a sales and marketing strategy.
We could not have set-up our telemarketing office without Carol's input on everything from how and who we should recruit including where to recruit from through to running scenarios on the number of people to start with.
Having someone who has the answers to the big issues as well as all the little ones has made the whole process go a lot more smoothly. I believe her coaching skills would be of benefit to most businesses requiring support in their sales and marketing activity.
CEO | Global Charity said…
I employed Carol Griffiths recently when I reached a crunch point in the development of my business. The challenges I face as a non-profit training provider in a highly niche market baffle many but having worked with Carol in the past I believed she had the insight I needed. I wasn't wrong.
After briefing Carol grasped the crux of the issues and developed a well researched, coherent strategy for growth of both Grief Recovery UK and me personally.
Carol was challenging in a way any good coach should be, helping me define the scope of the work needed and what could potentially be achieved.
Carol is an excellent coach/mentor, I have seen her work with many personality types in my previous dealings with her and she absolutely knew how to get the best response from me.
You can always count on well researched answers, never glib off the cuff comments. I would recommend her to any business person wishing to see results.
To explore how Morton Kyle can help you boost sales, revenue and margins, please contact Carol via text or call to book in a call at a time to suit you – 0779 002 1885
Managing Director | Healthcare Consultancy…
I met Carol in March 2014, I was immediately impressed by her warm, sincere no nonsense approach to the task in hand and her 'can do' mentality. Her credibility has built her a strong professional business with a fantastic reputation.
For my own business she enabled me to dig deep and gain clarity on a particular issue I was struggling with at the time.
She has the ability to assimilate the facts and take a long strategic view on both the business and the person(s) involved in it.
Carol definitely walks the talk as she is constantly updating her skills, knowledge and business contacts all of which she freely shares.
After six months when I found myself struggling again with a project; Carol came to the rescue. We are now seeing those same results.
Morton Kyle under Carol's leadership delivers a timely, professional service that delivers measurable results. Her approach is to ask focused questions, gain insight into the industry and sift through what is important. The results achieved are about creating collaborative working and she takes you through all the steps however difficult.
Her experience, pedigree and strong network has enabled her to deliver a bespoke solution based concept that will and does work.
In summary, I'm enjoying working on my business instead of in it. I cannot recommend her highly enough and have; as she has a dynamism that is unsurpassed.
Book your free sales consultation to discuss how Morton Kyle can help you increase your sales, revenue and margins by calling 0779 002 1885
Client Services Director | International Outsourcer
To whom this may concern
Carol Griffiths of Morton Kyle has provided and delivered a number of training programs to our company over the last few years and is a preferred supplier of our company.
I worked closely with her whilst she delivered a Team Leader Development program at our consumer site earlier this year and witnessed the extremely positive impact the training had on each employee and the department as a whole. Employee retention levels rose, performance increased and the Team Leaders adopted a more empowered presence following the training delivered to them.
Carol is enthusiastic, utterly professional, knowledgeable and versatile to work with as well as having the ability to engage with employees regardless of their calibre, and train them to the standards a company requires.
I would not hesitate to recommend Morton Kyle as an excellent training provider and look forward to a long working relationship with Carol and her company.
Managing Director | National Recruitment Company…
We hired Carol to effectively remove an impasse to growth in The Interim Register. The business had reached a ceiling in terms of sales and we needed an expert third party opinion to help us look at the business from a new angle to regain momentum. Carol's core ideas formed the basis of subsequent restructuring which has been a great success. I would definitely recommend Carol!
Seen enough? Book your free sales consultation on 0779 002 1885
Director | IT Service & Consultancy Firm…
Before I met Carol, my business was doing well but it was based on referrals from my network. My business is quite specialist in approach and offering, and some of the referrals I was receiving were not really the ideal size of clients I wanted to work with.
I have some great clients, but I wanted to work with some larger and specific organisations. I spent a day with Carol, and then benefitted from some crucial follow up coaching from her and now I am confident directly approaching the businesses I want to help, and it is working!
Corporate Relationship Director | Asset Finance Firm…
Carol has work with me to help guide young team members to become service focused and self motivated Account Managers. Carol's coaching and consultative approach helped to deliver real value to my team and brought the best out of them. I would recommend her as a trainer for anyone looking for personal coaching in a customer service environment. She is a master at unpicking very tangled/complex personalities and setting them on the right path
Account Director | Global BPO…
I've worked with Carol in three different areas – I've been a client, worked with her as a colleague and been delivered training from her. As a client I bought what she was selling; as a colleague I enjoyed her professionalism; as a trainee I learnt some good stuff from her. She is committed, focussed, tenacious and driven to succeed. She is also very straightforward and doesn't waste words – you will know where you stand with her and her with you – important if time is money!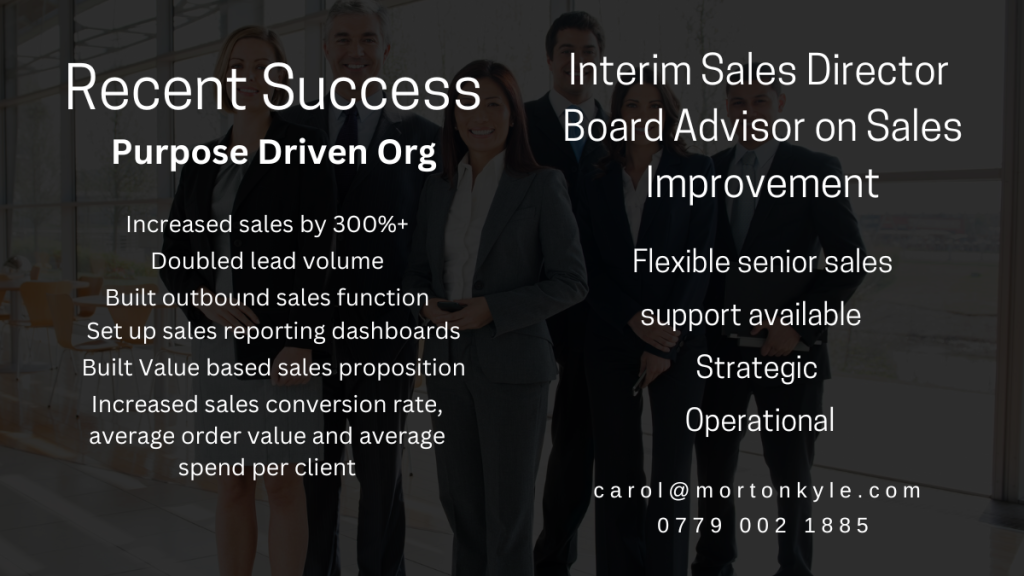 M.D | National Print Company…
Carol has worked alongside me for six months and is still ongoing. If you want to increase your company sales, move processes forward and bring a new lease of life into your company, you need to employ Carol at Morton Kyle.
Seen enough? Book your free sales consultation on 0779 002 1885
M.D | Service Management Consultancy Firm…
She is a pleasure to work with as she is always direct, focused and has the ability to see the big picture, whilst still delivering at the tactical level which is a significant benefit when achieving complex business goals. She is a recognised problem solver and respected by peers, management and board members alike. I would strongly recommend her as an asset to any organization.
Director |National Insolvency Practitioners…
Carol has worked with our company for a number of years, assisting us in our company growth.
Her role has covered many aspects of our business and sales development, and she consistently delivers more than is asked of her.
She is:
An exceptional listener – she has guided my thinking through the challenges I and my business face on an ongoing basis
Proactive in opening doors and spotting commercial opportunities on our behalf
Direct and to the point when delivering what needs to be done
Great sales focus – 1 days work led to three business opportunities, one of which allowed us to expand our business considerably
Helps us to distinguish between the urgent and the important
Valuable sounding board on sales, marketing, staff targeting, presentations and general business approaches
Achieves a great deal in a very short space of time
Always looks for the easy wins
Divisional Head | Business Advisory Organisation…
Carol got to know Medilink well and her understanding of the company allowed her to provide our team with excellent training and advice.
Her application of business expertise, twinned with in depth research yieleded a tailored training package for the business
Group HR Director| Leading Asset Finance Company…
We have worked with Carol for a number of years on various career development projects.
Carol has successfully created and delivered programmes which have developed our people. She works very closely with our managers to understand the culture and ideals of the company which enables her to deliver training/coaching with maximum benefit to the individuals. She is highly skilled and experienced in her field.
I would not hesitate to recommend Carol for future work.
Seen enough? Book your free sales consultation on on 0779 002 1885
Director | National PR Company…
Carol is one of the nicest people I know, which goes a long way in helping her be a successful business woman. Her approachable manner and expertise in recruitment make her so easy to work with. Her connections and networks are exceptional and she never fails to make use of them to help her clients
Sales Professional | National Copier Company…
"After enduring a lean time in sales for a number of months our company decided that maybe a professional consultation would benefit me, in a bid to increase my sales performance. Even though I was making many telephone calls a day my biggest problem was booking good quality appointments with decision makers at the prospective clients.
I spent a half day session with Carol Griffiths from Morton Kyle Limited at our offices. The session was relaxed and informal but ultimately very beneficial.
Carol asked me to present to her as if I was in front of the client. She then gave me tips on the presentation what I was doing right and to continue doing, and where I could improve. I then did a telephone pitch and once again went through the good and not so good points.
Carol prepared a telephone script for me to work on and also advised the level of activity I should aim for in a bid to get the required number of appointments.
We also went through the best way to do the appointment when in front of the client.
Since the consultation my appointment levels have risen and in the following month since the consultation I exceeded monthly target for units sold and profit margin.
Now I'm not saying the techniques learned work 100% of the time but it WILL significantly improve your performance and results. I remember the first time using the telephone script that Carol had prepared after the consultation, and whilst speaking to the decision maker, I remember thinking to myself "It works!" Also the tips given to me regarding the appointment itself have been a great help with deals now closed with ease!
I would highly recommend a consultation with Carol to anyone who's sales performance needs a boost. It worked for me.

I'd love to talk with you about helping you realise your firms true profit potential…book your call on 0779 002 1885
Latest posts by Carol Griffiths
(see all)